Easily creating a backend for static sites with Airtable
Video screencast: step by step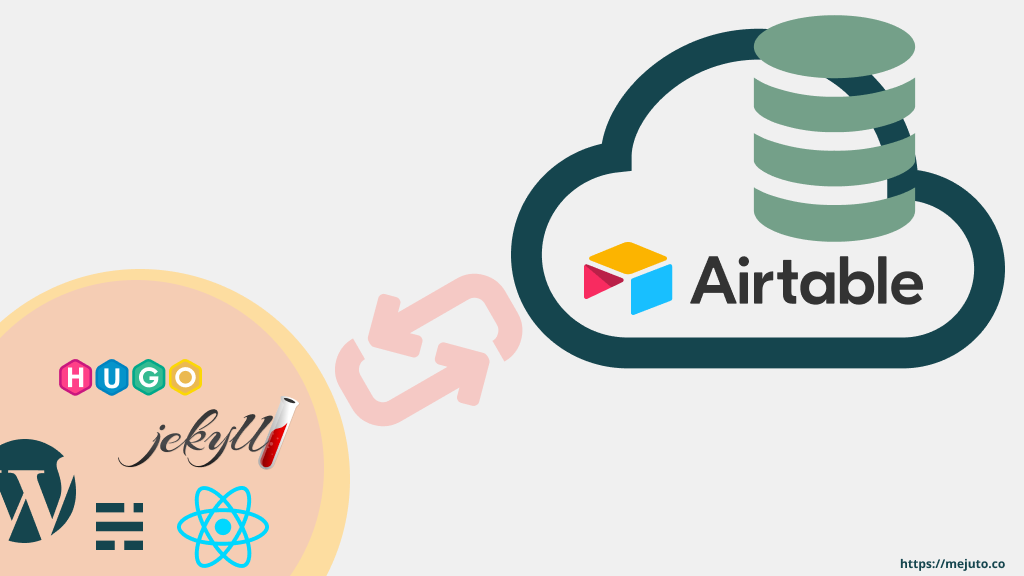 Video screencast: step by step
---
Airtable is great. You get a table in the cloud1, very easy to setup, and with many integrations.
I have been playing with one of its features, a RESTful api created from your base — Airtable calls bases tables. Airtable automatically generates example calls and CRUD2 commands.
Here we can see one of the examples autogenerated.
As soon as I tried this, I thought it was very powerful 3.
Can we use Airtables RESTful api as a backend, with only frontend? If this is viable, we could develop our site in React — for instance — and directly call any apis in Airtable. This would be a very quick way to build prototypes and MVPs4.

Can we use rest api to add behaviour to a static site generator? Like jekyll
The mission
To test this I created a Subscribe-to-newsletter box that uses Airtable as a back-end.
It will use only html, javascript and css (scss compiled to css)
We are adding it to a Jekyll blog — this one, where this article was written. The same code should work in any other SSG 5 — hugo, ghost, etc. — or platform — plain website, Wordpress. Anywhere that can serve html.

We will jump between the backend and the frontend to end up with the component above. Let's start with the backend. It will be Airtable.
Subscribe to newsletter: the backend
Creating a new base
We can create a new table — or a base, as Airtable calls it — to store our beloved email subscribers. I called it email_subscribers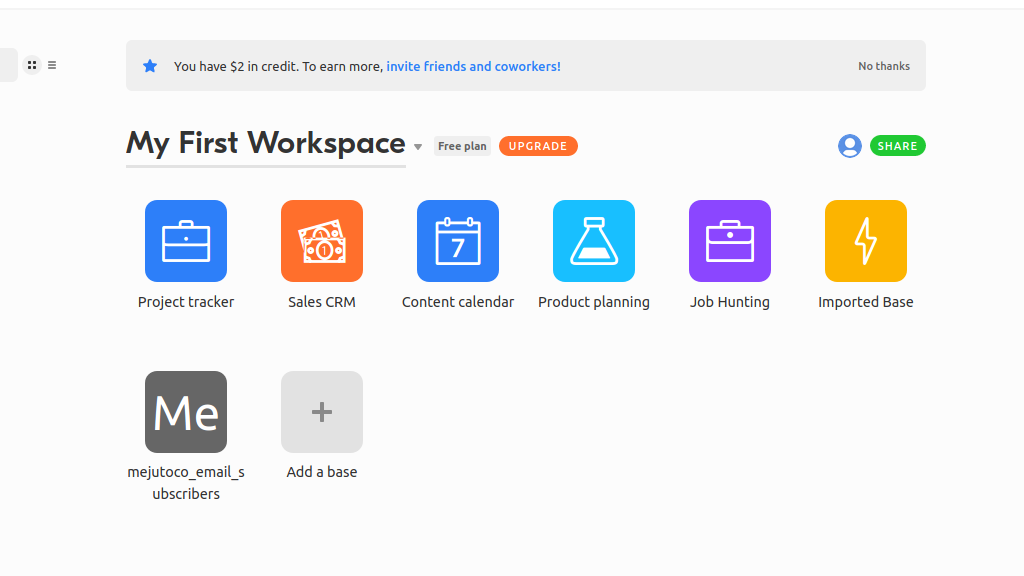 Adding columns and its types
We will add the minimum information for an email subscriber
email: Obviously we need to store this
Created: A type of column that Airtable populates for us with the time the record was created
Notes: This field is not strictly necessary, but we might want it to store extra information. In this case I commented on the fact that the first email is me, and not a subscriber.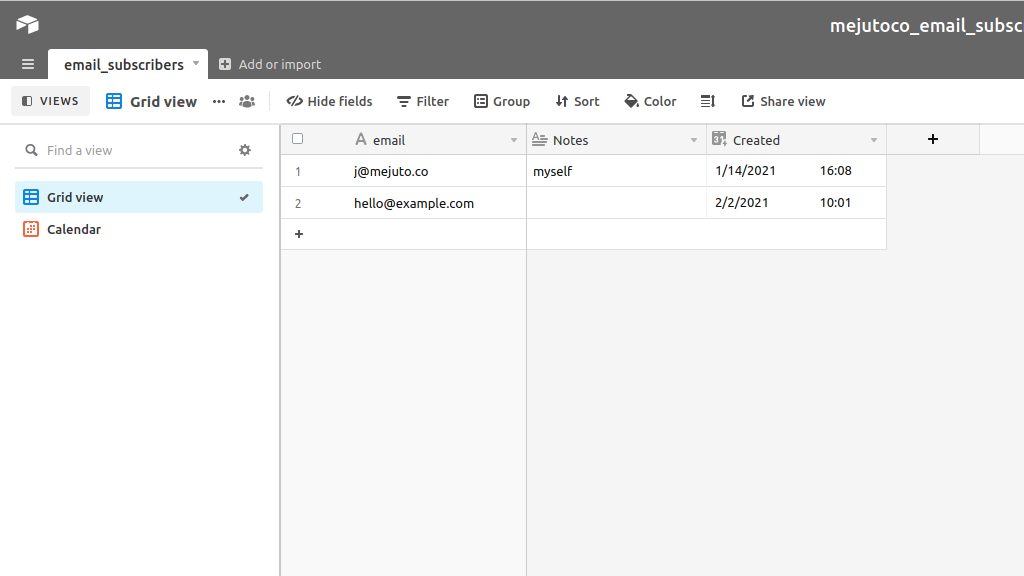 Next, we generate a rest api from the base email_subscribers we just created. We go to https://airtable.com/api select the base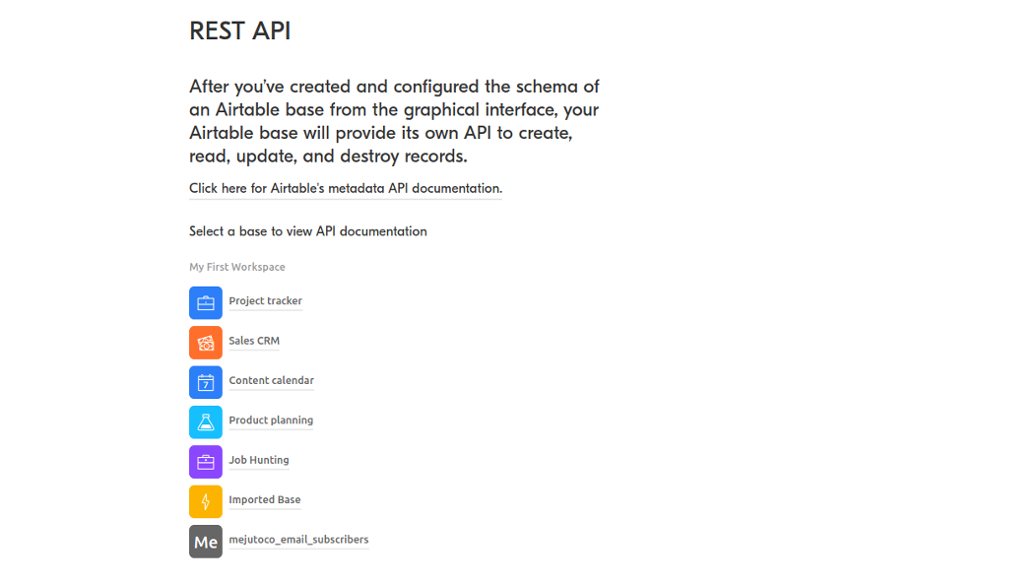 And here is our api: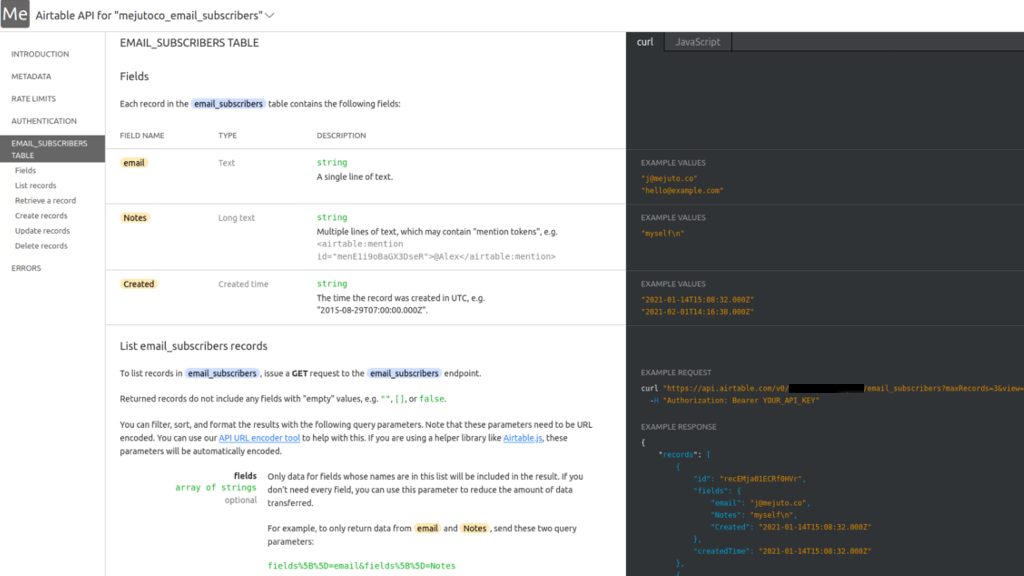 As you can see in the generated api, we will need to use
base id , included in the api already.
api key
How to get the base id
We need to replace the values in airtable_base = 'YOUR_BASE_ID' with our base's id. You can find it in the url of the generatd rest api, or in any of the example calls:
https://airtable.com/YOUR_BASE_ID/api/docs#curl/table:email_subscribers:create

How to get our api key
You can get the api key in https://airtable.com/account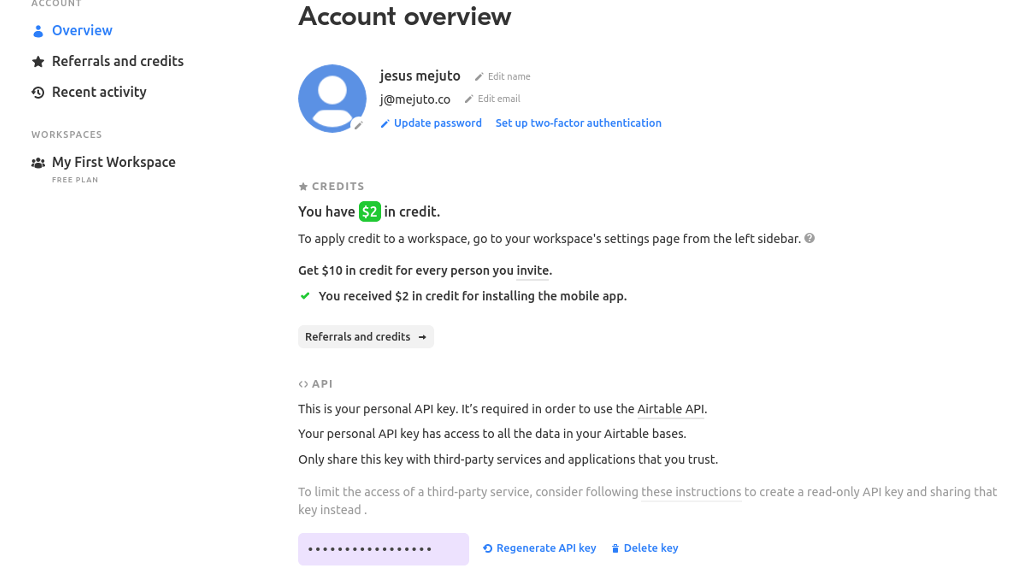 Subscribe to newsletter: the frontend
a simple — but insecure — implementation
We can include it in any page or post.
Or If you prefer you can get the plain css version
Why this is a bad idea
Some resources stop here. Job done! But this is a terrible idea in terms of security. Ok, so there is some risk of fingerprinting, or some obscure self-XSS vulnerability — you may think — Wrong! The security error is pretty much full access to anybody walking by.
The base id and airtable api key should both be secret, since anybody with access to them has the same access as we do and can modify, delete anything we can. The problem: sharing our base id and api key gives full access to anybody with them.
Anybody that can view source can hack us.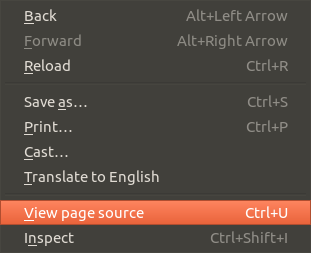 How to solve it
How to solve it 6, then?
Airtable Roles and permissions
Either read only or modify, delete. Checking Airtable permissions we see that we can use the following roles:
Owner/Creator
Editor
Commenter
Read-only
Unfortunately, this basically means we can have an api key for a read-only or for total access to the base's data7.
There have been suggestions to improve the granularity of permissions in Airtable, and I am sure that there will be eventual improvements there.
If you know of an alternative way to have more granular permissions — with different keys with access only to add records, for instance — feel free to contact me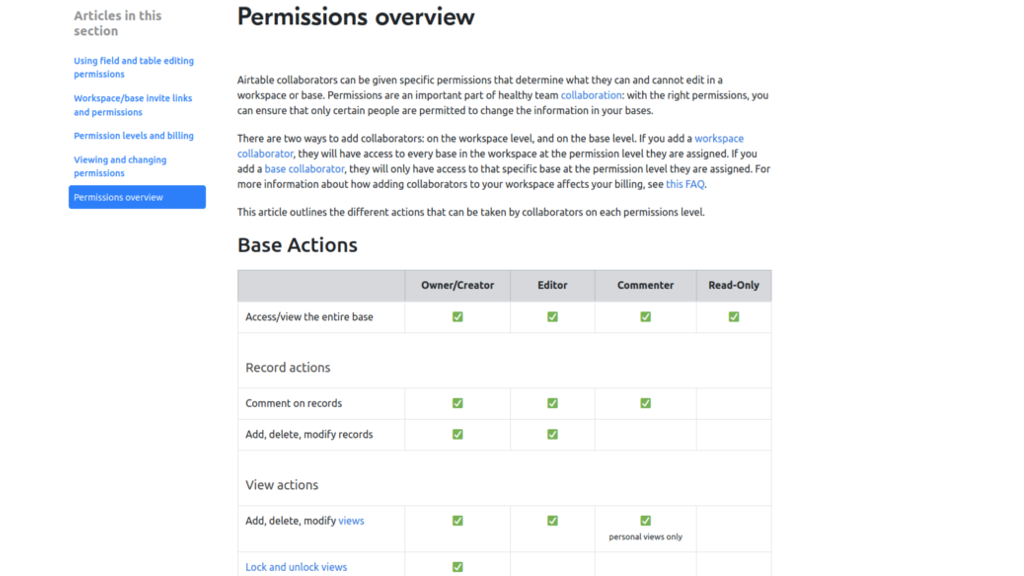 Since we either have a read-only api key — not useful to modify or append — or an (almost) access-to-everything one, we cannot share these api keys. Using them in our frontdoor code in javascript would allow anybody can get access to the "keys of the kingdom": our data.
The solution
We need something that limits the actions from airtable Airtable uses the following methods:
GET Lists information in the table. We do not want to enable this or anybody could list the users that have subscribed to our newsletter.

POST Creates new records. This is the only one we want to enable for our mission today.

PATCH This is A PATCH request will only update the fields you specify, leaving the rest as they were.

PUT This is used to update, deleting anything we are not updating. From the Airtable docs:
A PUT request will perform a destructive update and clear all unspecified cell values.

Usually this is not what we want, PATCH is recommended instead.
HEAD, OPTIONS, TRACE, CONNECT These are other http verbs that are not used by the rest api generated by Airtable.
There are several Http method, we will allow only POST This way record listing, modification, deletion and table operations become impossible
We need to
limit the accepted http verbs/methods to only POST
Hide the name of base and api key
Proxying the requests
Here are the steps to proxy the requests:
We are going to send the requests to a server —not to airtable —.
That server will query Airtable in the following way:

Only the POST method will be allowed — thus, only appending records.
base id and api key will be secret, since the server's source code is not public.
We will use these values to make a request to Airtable's api and return to the user.
Option 1: Serverless proxyiing
(Or similar) Here one option is to contract a new Serverless service, like Cloudfare workers, lambda, or similar. This service can spin up a new function/server/endpoint on every request and redirect it to airtable.
It could be done, for let's say an estimated 5$/month — since it is a service, it costs money. It is a very valid option that we might explore, but for this newsletter subscription widget, I have decided it is not worth the hassle. I will put it on an existing server instead.
If you are interested in this let me know and I will look into updating the article with this option
Option 2: own server, with django
Since I have already some servers I can use one of them to take part of the proxying to Airtable. A lot of my projects use Django 8, so we will use that. The solution will be very similar in other Python frameworks — flask, bottle — and other programming languages and frameworks — Go, rails. Anything that runs on the server-side really.
First we create an endpoint to accept requests. In this case it is '^/api/newsletter/$'. This means, if our server is at https://example.com, this will point at https://example.com/api/newsletter/ That is the url our javascript will need to call with the email.
Next, we create the view that we chose above
We need to replace the values in airtable_base = 'YOUR_BASE_ID' with our base's id. You can find it in the url of the generatd rest api, or in any of the example calls:
https://airtable.com/YOUR_BASE_ID/api/docs#curl/table:email_subscribers:create

We will also need to set the name of our base (table) here. We chose email_subscribers for ours, as we saw before.
Finally, we replace the api key for our secret api key:
You can get the api key in https://airtable.com/account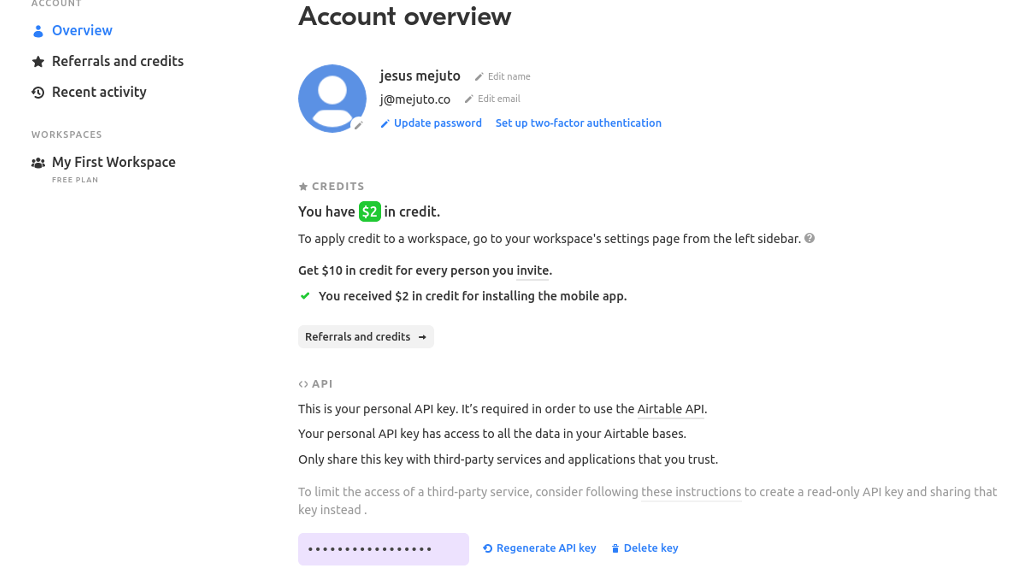 Please remember, anybody with this key can take full control of your tables and data in Airtable. Do not put it in your client's javascript!
If the server is running in a different domain, we need to add the csrf_exempt annotation of the view's method. For example, your site is hosted at https://mejuto.co and the server serving the django requests is not under this domain. In my case, it is at https://findthepodcast.com, so you will see my requests will point to https://findthepodcast.com/api/mejutoco/newsletter/
Modified frontend (secure)
Now, that we have a backend proxying our requests to Airtable, we only need to modify or client code to call that.
Demo

Network tab
We can use our browsers Network Tab in the developer tools (F12 or right-click inspect) to verify that we are not leaking any of:
Name of base id
secret api key
Checking the url
We can confirm that the url (highlighted in the screenshot) contains no base id or api key.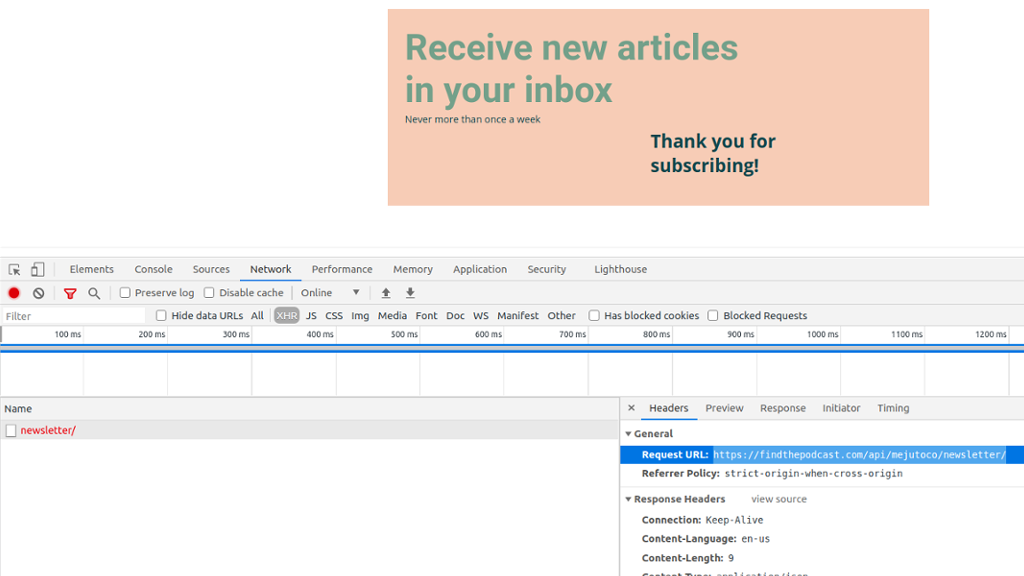 Checking the request parameters
Also, the only parameter sent is the email of the subscriber (highlighted in the screenshot below)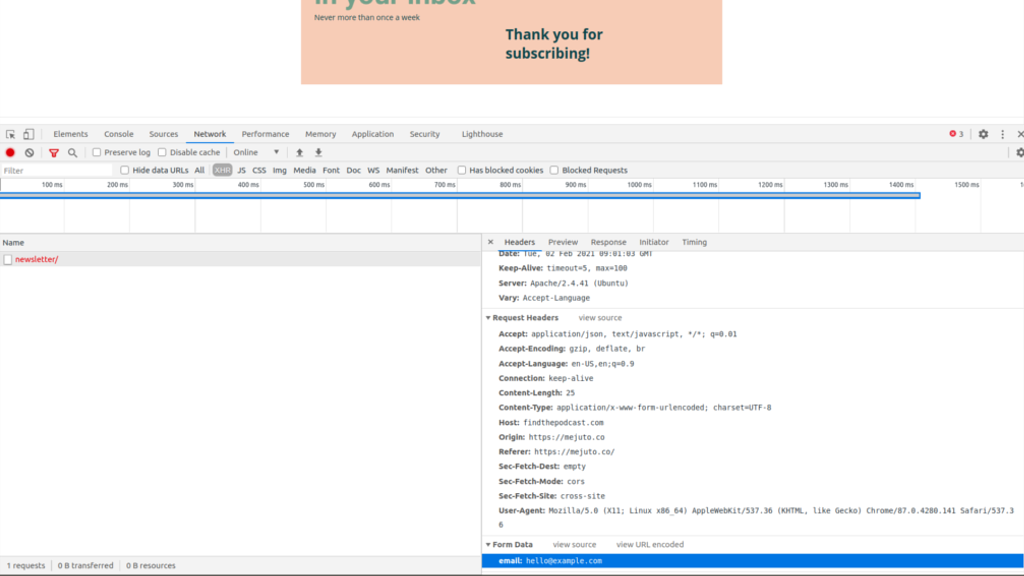 None of the client code has access to our secret information. Confirmed!
Cherry on top: email notification
Once we use Airtable we have a lot of Automations available.
A useful one is to enable email notifying us when we get a new subscriber (when a new record gets added to our base).
Instead of checking Airtable's base once a week, we can get an instant mood boost as soon as someone subscribes.
On our base view, we can open the Automations panel and add one to send an email. As a trigger we select When a record is created As a Table 9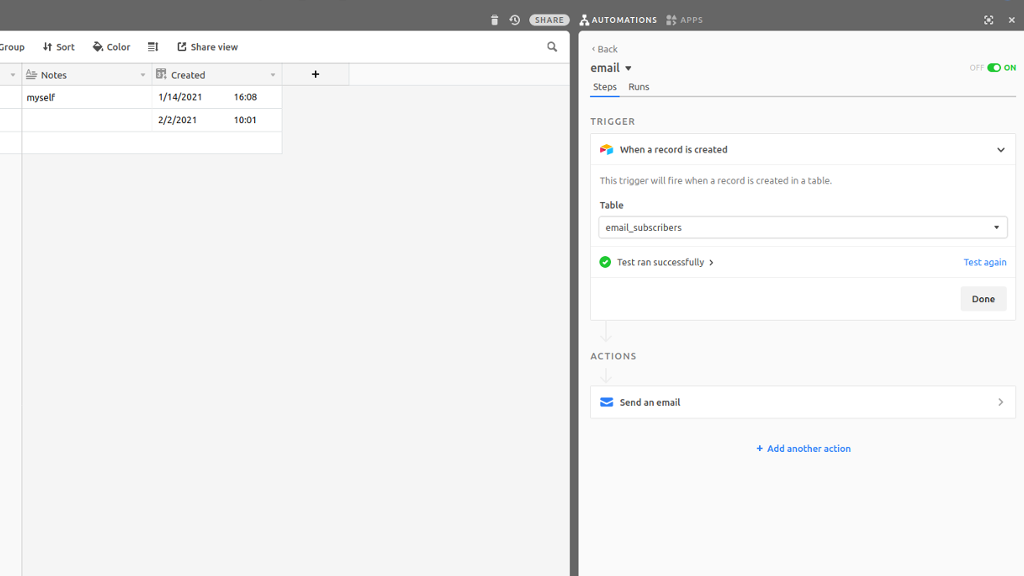 Other uses
We can use the same approach to build any dynamic behaviour like:
A poll to our audience
Any kind of form asking for input (Submitting images, documents, text)
Managing attendance, supplies, calendars.
As a readonly api to show data managed in Airtable.
Although, we did not show it, we can allow only the GET http method to get readonly access. This can allow us to manage content in Airtable, while using a frontend technology — like React, for instance — to query these endpoints and display the information.
For example, a restaurants website could be developed in React, and perform GET requests to our proxy, while the menu is managed on Airtable and can be changed every day, without code. 10
Limitations
We have created a quick newsletter signup to our static site generator using Airtable. Anybody can append more records to the table, but they cannot modify existing records, read them or delete this one or other tables.
Thanks for reading
---